The beautiful Island of Rhodes offers a variety of romantic options for civil ceremony weddings, renew vows and a fabulous honeymoon.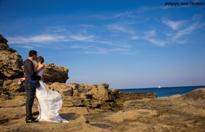 The Municipality of Rhodes supports the demand of approximately 1000/per summer season civil wedding ceremonies, with the existence of exclusively civil weddings offices in the Town Hall and the Municipal Regions of the main setting venues in Rhodes City, Kallithea, Ialyssos and Lindos, authorized to issue the wedding Act as required.
Ceremony Venues


Rhodes City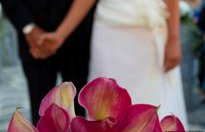 The modern city of Rhodes is one of the biggest municipalities in the Greek islands. It is the financial and the cultural center of the South-Eastern Aegean, and successfully combines a lively present with a rich historical past. There are many reasons why Rhodes is one of the most popular resorts in Mediterranean: the natural surroundings with crystal clear seas, many parks and recreational facilities, the bright sun and the warm hospitality of the islanders themselves.
The city has an excellent tourist substructure and offers a wide variety of entertaiment , night life, sports, cultural events and daily trips to the wonderful neighboring islands.

The visitors have the opportunity to learn something of the eventful history of the city, visit the museums or go sightseeing.

The ceremony takes place in the
Main Town Hall in Rhodes.
Contact info:
Address:
Rhodes Town Hall, Rhodes 85100, Greece
Tel:
0030 22410 46256
Person In Charge:
Giakoumakis Konstantinos
Ialysos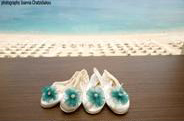 Ialysos (or Trianta), the city of the amazing sunsets, culture and sports. It is one of three great ancient cities of Rhodes, which together with Lindos and Kamiros made up the Rhodian Three-City province. Today, the municipality of Ialysos is a popular cosmopolitan resort. The modern hotel units of Ixia and Trianta receive thousands of guests all the year round -holiday makers, conference goers, and business people. Guests enjoy the sun, sea water sports, beach volley on the organized beaches and many other sports. On the green Hill of Filerimos you can visit the monastery of the Virgin Mary as well as the ruins of the Ancient Acropolis. The neo-classical houses and the Byzantine churches are of special interest.
The ceremony takes place in Filerimos Cross, of Filerimos.

Contact info:

Address: Ialysos Town Hall, 9-11, Iroon Politechniou, Rhodes 85101, Greece
Tel: 0030 22410 98427
Person In Charge:Koufou Maroulitsa
Email: eialysos@yahoo.gr, koyfoymar@yahoo.gr


Kallithea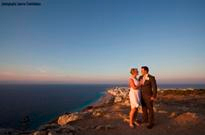 The municipality of Kallithea stretches along Faliraki beach and includes the village of Koskinou, Kalithies and Psintos. Over recent years the region has grown rapidly thanks to tourism. Faliraki, one of the most bustling resorts on the island is famous for its five kilometer- long sandy beach, where you can revel in the bright sun and the blue sea of Rhodes.
The hotels, of all classes, guarantee genuine hospitality, while there are numerous restaurants and bars catering for every kind of night-time entertainment.
Kalithea bay with its Italian springs and amazing diving are just some of the sights that attract large numbers of visitors.
The ceremonies in Kallithea region take place in the following venues:
Town Hall

Kallithea Springs & Spa

Church of Saint Apostoloi

Church of Prophet Amos
Contact info:

Address: Kallithea Town Hall, Kallithea Rhodes 85100, Greece
Person In Charge: Papanikolaou Vera
Tel: 0030 22413 62627
Website: www.kallitheasprings.gr
E-mail: protokolo@kalithea.gr, vera@kalithea.gr


Lindos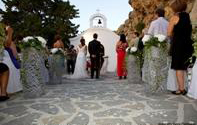 Picture-perfect Lindos town has it all-culture, romance, glamour and pure nature.
Combining a compact hillside village of whitewashed houses and a medieval-walled hilltop. Acropolis containing an ancient Greek temple, this exclusive destination overlooks a deep circular bay of aquamarine sea rimmed by a lovely sunny beach.
The village is a maze of streets paved with black and white pebble mosaics, and lined by houses built by wealthy sea captains and ship owners during the 17th and the 18th centuries-white washed villas with elegant stone doorways and small internal courtyards.
The ceremonies in Lindos take place in the following venues:
Lindos Town Hall

St Paul's chapel, St Paul's Bay:

Saint Paul's Chapel is perhaps the most picturesque setting of all, this tiny chapel is perched below a cliff in the shadow of the Acropolis of Lindos, next to the turquoise waters of St Paul's Bay.

St Dimitris Chapel:

St Dimitrios chapel, in Lindos , is a little chapel set dramatically beneath the acropolis of Lindos a top a terraced area and is approached along a charming stone path.

St George Pachymachiotes Chapel:

St George Pachymachiotes is a traditional chapel positioned overlooking the sweep of Lindos bay with views towards the platia (village square) and the surrounding olive and orange groves, across Megalos Gialos (the Main beach).

Contact info:

Address: Lindos Town Hall, Lindos Rhodes 85107, Greece
Tel: 0030 22443 60126
Person in Charge: Antoniou Dimitra
E- mail: lindosweddings@lindion.gr


Other Civil Weddings Venues in Rhodes

Afandou Region

Contact info:

Tel: 0030 22413 62500
Person in Charge: Paulous Evaggelia
E-mail: e_pavlous@hotmail.com

Archagelos Region

Contact info:

Tel: 0030 22443 60242
Person in Charge: Karaolanis Manolis
E-mail: karaolanis@1285.syzefxis.gov.gr

Attaviros Region

Contact info:

Tel: 0030 22463 60115
Person in Charge: Diakoparaskevas Evaggelos
E-mail: vagdi@1293.syzefxis.gov.gr

Kameiros Region

Contact info:

Tel: 0030 22413 60913
Person in Charge: Papastergi Maria Loukia
E-mail: papastergi@kamirou.gr

South Rhodes Region

Contact info:

Tel: 0030 22443 60328
Person in Charge: Salvari Tsambika
E-mail: t.salvari@1450.syzefxis.gov.gr

Petaloudes Region

Contact info:

Tel: 0030 22413 61627
Person in Charge: Lalioti Ioanna
E-mail: ilalioti@petaloudes.gov.gr


Necessary Documentation


The following documents are required to perform a legal Civil Wedding in Greece:
Full A4 Birth certificate (both parties)
Certificate of Non-Impediment to Marry (both parties: Proves you are single and free to marry)
If divorced: a Decree Absolute
If you are widowed: Death certificate of previous spouse and the previous marriage certificate
If you have changed your name: Deep Poll Certificate is required
If adopted: An Adoption Certificate is required
Passports: Photocopies identifying both parties
Fees

* Couples submit original documents or certified copies to the Foreign Office so they can attach the Apostille Stamp at the back of each of the above documents.

* All the above documents (except the passports) are to be translated into Greek and authenticated by local Greek Embassy or consulate.

source: Municipality of Rhodes photos: Ioanna Chatzidiakou